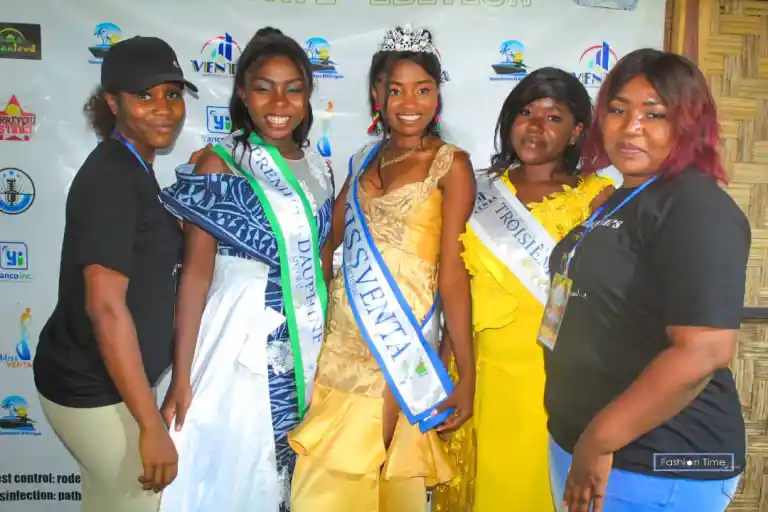 The miss venta 2023 contest. They were a total of 9 candidates who competed in skill on the stage of the first edition of the Miss VENTA competition on behalf of the Littoral Region, on March 11, 2023, in the city of Douala, at the Mac Donah Garden space, a place called total Nkolbong. After several passages made (in the uniform of a sales agent, sportswear, business attire, evening wear), passing through the parade of presentation of the candidates, in front of a young and impartial jury, 5 candidates were able to stand out and selected for the national final scheduled for next May. We then proceeded to the actual election and the crowning of Miss VENTA littoral and her runners-up.
In a good-natured and suspenseful atmosphere, candidate number 2 NZOPA LELE Marie-Paule will be carried in triumph and will win the very first Miss VENTA littoral 2023 crown; at his side, 3 runners sharing the same jubilation with singular emotions. Candidate number 3, DIKANDO Mégane is elected first runner-up in Miss VENTA Littoral 2023, followed by candidate number 11, BIKOKO Honorine, 2nd runner -up Miss VENTA Littoral 2023, candidate number 10, BELEM A BROUNG Ruth Flavie leaves with the scarf of the 3rd runner -up miss venta littoral 2023 and candidate number 4 MATCHUM Sandra finalist for the national final.
All will be present in the city of Yaoundé, the city chosen for the national final, on May 13, 2023. The regional final miss venta littoral thus passes the elevator to the regional final Miss VENTA center which will be held on March 25, 2023, at the Mi- Sahel from 5 p.m.
The first Miss VENTA littoral 2023 edition also shone with the presence of a few partners who brought added value to the event, in this case: PRISCA NAIL'S ART, FLORESS DESIGN, and the young craftsman MJK who offered a crown, a Miss scarf, a dress, and its accessories, woven by hand.
Recall that the miss venta contest is a beauty contest in the service of hygiene and sanitation aimed at contributing to the prevention of benign and tropical diseases of which the Cameroonian populations are victims. It is a tool for raising awareness and promoting 4D services (disinfection, rat extermination, Insect Control, and Reptile Control) of the company VENTA INVESTMENTS COMPANY LIMITED, created on October 26, 2006, and which has made hygiene and sanitation its domain. of choice beyond its many services which contribute to the socio-economic development of Cameroon and the CEMAC sub-region.
VENTA INVESTMENTS COMPANY LIMITED has established its activity in the fight against the many pests in our environment that transmit diseases to us on a daily basis: cockroaches, mice, lizards, snakes, mosquitoes, bacteria, viruses, etc. It is therefore more than important to make use of the beauty of Cameroonian women in this great challenge for a favorable echo within our communities.